As a boxer, you have to take care of your equipment. Your boxing gloves are very important for protecting your hands. And, they're required by various sanctioning bodies. With that being said, you need to make sure that you go above and beyond to keep your gloves in good shape. Within this guide, you'll find tips for cleaning your boxing gloves.
What Causes My Boxing Gloves To Smell Bad?
When you training or participate in sparring, you're going to be sweating profusely. Your hands will sweat intensely since they're stuck in a tight boxing glove. This will create major problems. The sweat and heat inside of the boxing gloves will cause them to develop a horrible odor. Unfortunately, this is a part of boxing. You're going to sweat and your gloves are going to stink. Thankfully, you can take steps to clean the gloves so the odor isn't too horrible.
How To Clean Your Boxing Gloves
As a boxer, you need to find out how to keep your gloves in good condition. Otherwise, the odor will become very problematic and you may feel obligated to buy a new pair of gloves. Thankfully, keeping your boxing gloves clean doesn't have to be too difficult. First, you'll need to find a good cleaning agent. Baking soda works great for this purpose. Baking soda can help eliminate the odor and remove any stains from the exterior portion of the glove.
Simultaneously, you'll be thrilled to know that baking soda is not going to harm the glove. You'll want to clean the gloves using a deodorizing and anti-bacterial spray. It is best to clean the gloves after each use for the best results.
Best 3 Products To Clean Your Boxing Gloves
Meister Glove Deodorizer For Boxing And MMA
Tired of your gloves smelling musty and sweating? If so, it may be time to invest in the Meister Glove Deodorizer. The deodorizer is not only capable of neutralizing unpleasant odors but also absorbing moisture. Utilizing the deodorizer will keep your gloves smelling and feeling fresh. It supports a full range of sports gloves, including hockey, boxing, MMA, and skiing.
Aromatic Fillings
There is a small selection of Meister Deodorizers. You can choose from lavender, cedar, fresh linen, and cologne scents. Each scent will improve the interior of your sports gloves for the better. The filling will reduce and eliminate perspiration moisture and foul odors within a few hours. As soon as you return home from practice, place the deodorizers in your gloves. By the time you are ready for another practice, your gloves will be ready as well.
Pros
Eliminate moisture from excessive sweating
Neutralizes foul odors
Suitable for most sports gloves
Available in four aromas (lavender, cedar, cologne, and fresh linen)
Nunchunk design
Cons
Aromatic filling is not replaceable, you have to replace the entire deodorizer
Not machine-washable or reusable
Clear Gear Disinfecting Spray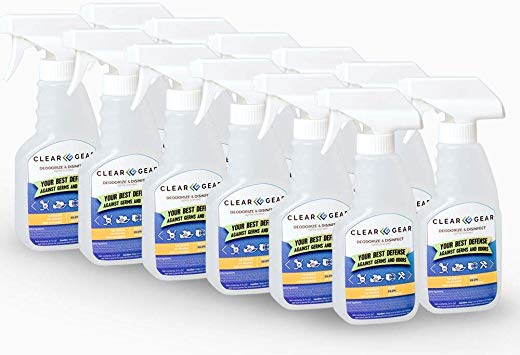 After going hard in the gym there is nothing that will go as hard on your gloves as Clear Gear. This disinfecting spray was not only specifically designed to tackle those harsh odors and unwanted smells, but it was designed to be extremely easy to use. Regardless of the amount of the product that you buy, it is going to come in some kind of spray container. This makes the product extremely easy to use. This is my personal favorite boxing glove cleaner as it does the job better than most everything out there designed to clean gloves. And to back me up, I'm not the only one who rated it top contender for cleaning your boxing gloves, Smartmma.com did as well, in their boxing gloves cleaning guide.
Safe On The Skin
Another amazing thing about Clear Gear is that it is tested safe. The product has been tested in a variety of conditions on a number of products. Every time it was proven that the product had no adverse side effects or unwanted lingering effects. You can literally use this product on anything in your gym without worrying about unwanted medical consequences. Not only this, but you don't have to worry about corrosion on workout machines either.
Pros
Can be used on a variety of athletic products
Comes in easy to use spray bottles
No need to scrub or dry because the product dries on its own
Cons
The smell might be overwhelming for some
Everlast Glove Deodorizers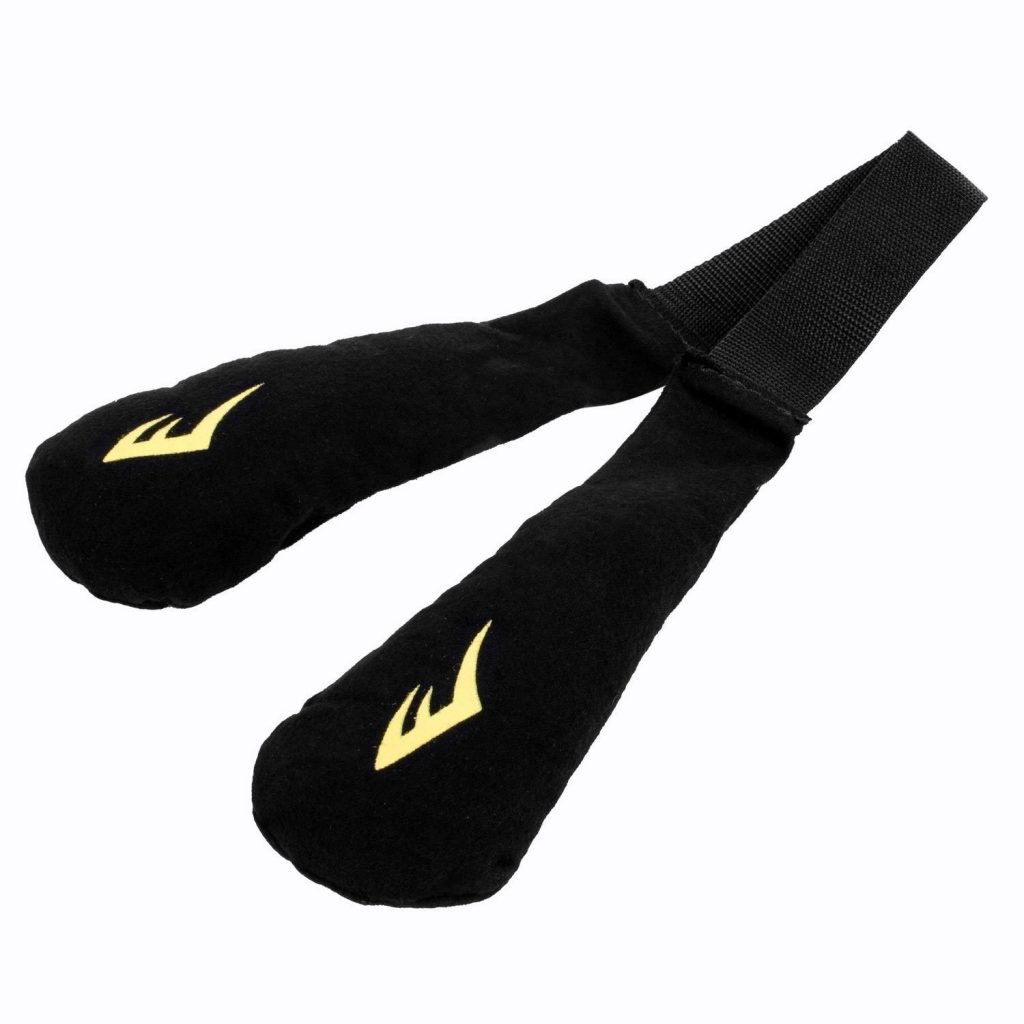 Over the years Everlast has grown to become an athletic household name. Not only are they a name that just about every gym and athlete has heard of, but they are a name that more and more professionals are trusting. When you see everything that their products have to offer it should be more than easy to understand why this is the case. Just look at these deodorizers. This product is made with real authentic cedar chips. Their natural smell and properties give the chips the ability to quickly and efficiently tackle stains and odors.
Reduces Unwanted Moisture
When you invest in this Everlast deodorizer, you not only get a product that is going to handle those harsh smells, but you get a product that is going to extend the life of your gloves. That's right, this deodorizer also extends the life of your equipment by reducing unwanted moisture build-up.
Pros
Designed with real odor-fighting cedar chips
Enhances the lifespan of gloves as well
Can be used with other athletic items
Cons
Products might not handle well in extremely moist conditions
How To Keep My Boxing Gloves Clean?
Once you've managed to get your boxing gloves clean, you'll want to keep them that way. With this in mind, you'll need to be very aggressive. Make sure that you clean the boxing gloves after each use or you can even throw your gloves in the freezer to kill of the bacteria that causes your boxing gloves to smell.. This will make a big difference since it'll prevent the gloves from getting too dirty. Each week, you should clean the gloves using an anti-bacterial spray. If the odor has become obnoxious, you should use a deodorizing spray as well.